Can we vegetarians have fun and enjoy Vegetarian food, in keeping with the Thanksgiving tradition? then the answer is YES...Thanksgiving is much more than just turkey. There is green beans, and stuffing along with dessert...I will give a small and simple menu in keeping with the Thanksgiving spices and theme and do similar posts in the next few days/weeks. Kindly bear with me, I am after all working dual jobs; one is of being a mom and the other is working a day job. We all sail in the same boat.
Thanksgiving is all about saying Thanks and giving Thanks. And what better way to Thank you all, then by sharing a simple recipe which has spices like Rosemary, Oregano and Garam Masala, a perfect east meets west. With these measurements, I could make approximately 21 coin size patties. This is my take on the Thanksgiving stuffing, just making an appetizer instead of a side dish.
You will need;
1 cup Yellow Pumpkin grated
1 cup bread crumbs- I used seasoned crumbs. The label read spiced with oregano, thyme, parsley and some Parmesan cheese and salt added.
1 tsp red chili powder
1 tbspn dry rosemary
1 tsp garam masala
1 tsp sugar
Salt as needed--The crumbs I used had salt added
2cups Oil for Deep frying
--Take the grated pumpkin and mix in the crumbs..let that sit for 10-12 minutes. Then add the spices, sugar and red chili powder, one after the other and salt. Add salt only if needed. DO not add any water. The Pumpkin will give out water and the bread crumbs will be wet enough to bind the patties. (Use 1 tbspn crumbs if the pumpkin gives out more water).
Heat around 2 cups oil in a wok on medium heat. Make small balls and flatten to shape like small discs and deep fry in hot oil. Fry till deep brown and then drain on a paper towel. The patties are ready to be served. This is a good appetizer, as you can make the mixture and freeze the balls and fry when you are ready to serve them. Serve them on toothpicks or make medium size patties for the burger or pita pockets. Do have fun and make them often, not just for thanksgiving.
Sending this to
Siris's Healing foods event
hosted by
Sridevi
Also won the prize on Indibloggre Master Chef 2 India Contest.. Thanks all for the love.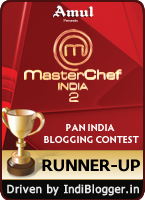 Love Ash.